HAVELIS OF RAWAL FAMILY OF AMKA
At the time when only big Jagirdars and Thikanedars were able to construct large mansions for their residences, the ancestors of Rawal Family of Amka constructed huge two to three storey Havelis in late 18th century. In addition, separate ghers (compounds) and buildings were also constructed for gents where outsiders and guests used to be entertained and reside. A map of Amka taken from Google is given below: The location of various buildings mentioned in this chapter is shown therein: It is not exact but fairly accurate:
FIRST HAVELI was constructed by Thakur Moti Ram Singh, the second son of Thakur Mohar Singh sometime between 1870 and 1880. It is a three storey building with an exposed brick structure. In all there are 16 rooms in this haveli. These rooms are on three sides i.e. east, west and south. In addition, there is an imposing front.   This building is still standing tall in the middle of the village. Till about 10 to 15 years back, some of the descendants of Thakur Moti Ram Singh used to live in the Haveli.  Now it is in dilapidated condition and vacant. The big wooden gates testify the magnificence of the structure. Two photos recently taken of the haveli are given below: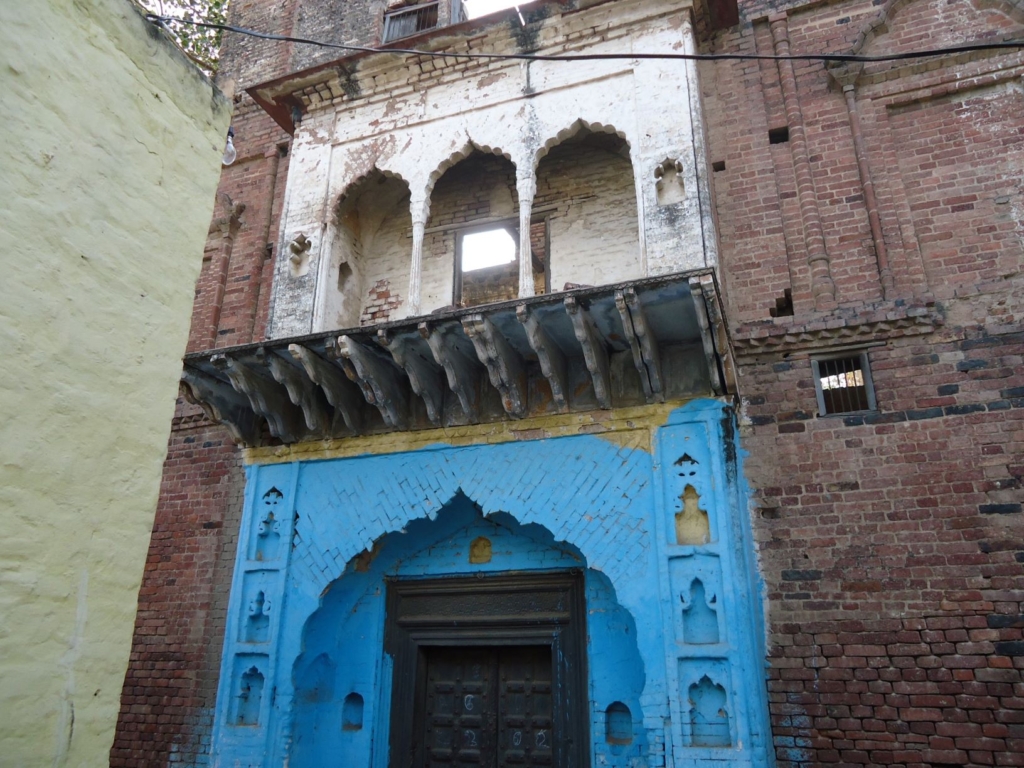 THE SECOND HAVELI was constructed by Thakur Sriram Singh the grandson of Thakur Mohar Singh during 1880-90. It is just adjacent to first one towards east. It is also a double storey exposed brick structure. There are eight rooms on the ground floor and two on the first floor with a magnificent façade that gives it a grandeur look. There is an open space in front of it. In this Haveli also descendants of Thakur Sriram Singh used to live till very recently.  Now the last occupants Shri Gaurav Rawal and Shri Saurav Rawal have moved out to another building recently constructed by them. No one now lives in it. First floor portion on the left side has been demolished because of safety concerns.  The building is in ramshackle and decaying condition. 
In addition to the above haveli, Thakur Sriram Singh also constructed a pakka building with a big hall and two side rooms and a verandah. This was used as baithak for male family members and guests and was popularly known as Kamra.. There used to be stuffed deer heads with horns decorated on the walls of the main room. And a very big cloth fan hanged from the roof which was pulled through a rope by a person to make it move to and fro to waft the air. This building has now been pulled down and a new house has been constructed in its place. It is believed that this Kamra was constructed even before Thakur Sriram Singh built his Haveli. A photograph of the building is available, which is given below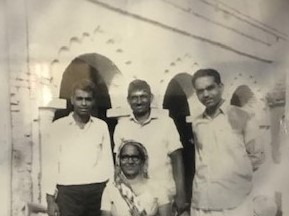 DUBAR FOR Thakur Sriram Singh's Compound: To enter this compound Thakur Sriram Singh also constructed a big Dubar. It was so high that an elephant or a camel would easily pass.through it.There were two huge wooden gates of this Dubar and a small wooden window to allow the persons to cross if the main gate is shut. Unfortunately this dubar also does not exist now and no photograph is available either.
Third Haveli was constructed by Thakur Desraj Singh son of Thakur Mukhram Singh and grandson of Thakur Mohar Singh. It was constructed much later in early 20th century compared to other two havelis. This haveli does not exist now. The last occupant was Major Veer Singh. It was sold to Thakur Vijay Pal Singh who demolished and constructed his modern house on the vacant land. Sadly, no photograph of this haveli  is available.
Thakur Narpat Singh son of Thakur Sriram Singh constructed a beautiful Kothi somewhere between mid forties of the last century. It was a sort of Hexagonal structure. It had one big hall and two side rooms and a covered verandah.  Regrettably, this kothis also does not exist now. However a beautiful photograph of it is available which is given below: